Disclaimer: Please note I receive a small commission when you purchase from some of the links on this page. You don't pay more when you buy through me; it simply gives me a chance to offer you all this great content for free!
The Poconos region in Pennsylvania is known for its stunning landscape and array of ski resorts.
As a beginner looking for the ideal location to learn skiing or snowboarding, the Poconos offers various options.
However, picking the right resort is essential to ensure a smooth introduction to the sport. In this article, we will discuss some of the best ski resorts in the Poconos for beginners, taking into consideration the quality of learning facilities, terrain, and overall atmosphere.
Understanding the terrain and offerings of each ski resort is crucial, as not all locations cater equally to beginners. Resorts such as Camelback Mountain Resort and Shawnee Mountain are known for their beginner-friendly courses and expert instructors who help newcomers feel comfortable and secure.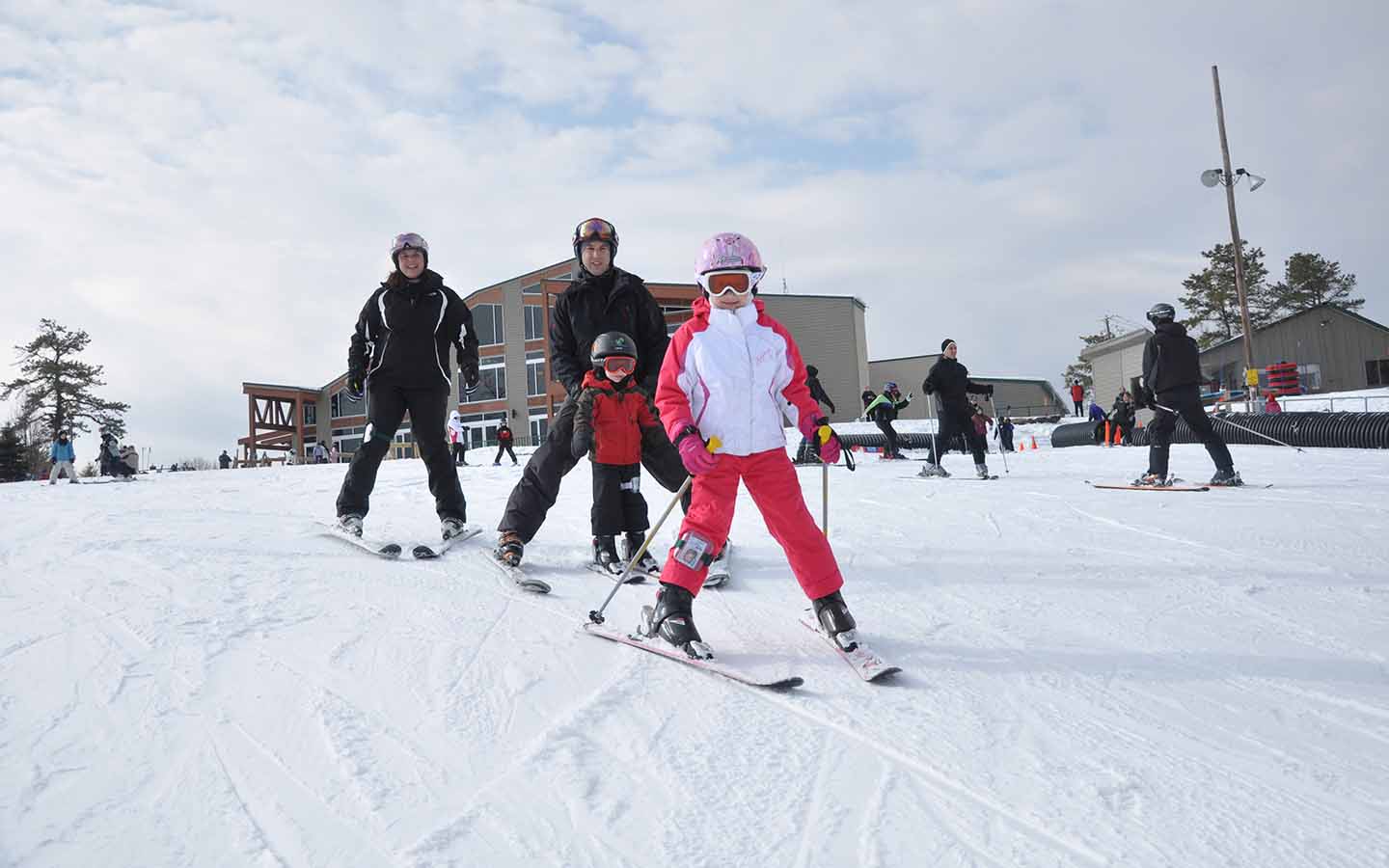 Additionally, you should consider visiting during the best times to ensure that the resorts offer their full range of facilities and optimal learning conditions. Generally, midweek is less crowded, and the snow quality is better than on weekends.
Always keep in mind safety measures and instructions while skiing in the Poconos. Proper equipment and professional guidance are essential, especially for beginners. Try to pick a resort that offers a comprehensive learning program and ample resources to get you started on the right foot and enhance your overall experience.
Key Takeaways
Poconos region offers various ski resorts suitable for beginners, with quality learning facilities and terrain accommodating new skiers.
Resorts like Camelback Mountain and Shawnee Mountain are beginner-friendly and provide expert instructors to ensure a safe and enjoyable learning experience.
Considering the best time to visit, safety measures, and choosing the right ski resort for beginners is vital for a successful and rewarding skiing experience in the Poconos.
Understanding Skiing in the Poconos
Skiing in the Poconos Mountains is a popular winter activity for people of all skill levels, especially beginners. The region offers six ski resorts catering to different needs and preferences, ensuring everyone can have a positive skiing experience.
Each ski resort in the Poconos has beginner-friendly trails, which make learning to ski a fun and easy process.
For instance, Blue Mountain Resort offers 14 beginner trails to help first-timers become comfortable on the slopes while enjoying the winter scenery.
In addition to these beginner trails, ski resorts often have dedicated ski school and lesson center spaces to help you develop your skills in a supportive learning environment.
When planning your ski trip, it is also helpful to consider the accommodations and amenities available at the various Poconos resorts. Some have lodging options on-site or nearby, offering a convenient base for your winter adventure. Others may provide dining and entertainment choices, allowing you to relax after a long day on the slopes. While each resort is unique, they all strive to offer visitors a memorable skiing experience.
A Few Notes for Beginners
Safety remains a vital aspect of skiing, especially for beginners. Ensure you know the required ski gear and practice the right skiing techniques to minimize the risk of injuries.
Renting equipment at the resort is often an option, and ski instructors will guide you through the basics of skiing, including navigating trails, controlling your speed, and maintaining proper balance.
Once you become confident on the beginner slopes, you can venture onto intermediate and advanced trails to further improve your skiing abilities.
As you continue exploring the ski resorts in the Poconos, you'll appreciate the diverse skiing opportunities offered in this picturesque region and how it caters to different skill levels and interests.
Best Time to Visit
The Poconos are popular for skiing activities and offer six ski resorts with beginner-friendly trails and lessons that make learning easy and fun. However, visiting at the right time can make all the difference in your experience.
January and February typically see the most snowfall, making these months a popular time for skiing and snowboarding in the region. Although snowfall varies, you can expect good skiing conditions throughout the season, thanks to state-of-the-art snowmaking facilities available at most resorts.
With December, January, and February being the best months for skiing, you can plan your winter vacation in the Poconos accordingly.
If you're more interested in hiking and outdoor activities, the high season for these activities occurs from June through August. The Poconos offer a variety of hiking trails and natural attractions during these months, providing an alternative outdoor experience for those who might not be interested in skiing.
To sum up, depending on your preferences and interests, plan your trip to the Poconos during either December to February for optimal skiing conditions or June through August for hiking and other outdoor activities.
Keep in mind that snow conditions may vary, so check with the specific ski resort before you finalize your plans. By choosing the right time to visit the Poconos, you'll have a better chance of enjoying the activities you're interested in and making the most of your experience at the ski resorts.
Safety Measures and Instructions for Beginners
As a beginner in the Poconos ski resorts, it's important for you to prioritize safety and follow the necessary instructions to make your experience enjoyable. This section will discuss some crucial safety measures and guidelines you should be aware of.
Ski Lessons Are Great Options
First, always take lessons from a certified instructor at one of the Poconos ski resorts. This ensures that you are learning in a controlled and safe environment. Professional instructors will teach you the proper techniques, give useful tips, and guide you through the skiing or snowboarding process.
Wearing appropriate gear is essential for your safety and comfort. Make sure you are outfitted with suitable clothing that will keep you warm and dry, but also allow for ease of movement. In addition, helmets, goggles, gloves, and appropriate footwear are all crucial components of your outfit, ensuring maximum protection while you're on the slopes.
Understanding Your Limits
Another key aspect of your safety as a Poconos beginner is knowing your limits. Choose trails that match your skill level, and do not attempt to tackle more challenging trails until you feel confident and have gained the necessary experience.
Local ski resorts typically offer maps and trail classifications to help you select the appropriate trails for your skill set.
When on the mountain, always follow proper skiing and snowboarding etiquette. This includes yielding the right of way to those in front of you, not stopping in the middle of the trail, and being aware of your surroundings. It's essential to respect the rules and other skiers or snowboarders to avoid potential accidents and ensure a safe environment for everyone on the slopes.
Know Your Surroundings (at all times!)
Lastly, pay attention to the posted trail signs and any warnings, such as changes in weather conditions or trail closures. This information is vital to your safety and the overall skiing or snowboarding experience. By staying informed and following the safety measures, you can have a fun and enjoyable experience as a beginner skier or snowboarder in the Poconos.
Camelback Mountain Resort
Ease for Beginners
Camelback Mountain Resort is an excellent choice for beginner skiers and snowboarders in the Poconos. The resort offers beginner ski and snowboard lessons at its Ski & Ride Academy, which ensures that you learn the right techniques and build a solid foundation for your skiing or snowboarding skills.
With two beginner lift areas and well-maintained slopes, novices can practice and gain confidence before venturing onto more challenging trails.
Amenities and Services
Camelback Mountain Resort boasts a variety of amenities and services to enhance your experience on the slopes. With 39 trails spread across 166 acres, the resort caters to all skill levels, ensuring that everyone can find a trail that suits their abilities. Camelback's efficient snowmaking and grooming keep the 800-ft vertical rise in excellent condition.
In addition to ski and snowboard lessons, the resort offers a range of equipment rentals for individuals who may not have their gear or need to upgrade. The rental services include skis, snowboards, helmets, and more, making it easy for beginners to find everything they need for a fun and safe day on the slopes.
Aside from skiing and snowboarding, Camelback Mountain Resort provides various activities and amenities for visitors. These include snow tubing, terrain parks, and dining options, ensuring that there is something for everyone to enjoy during their stay.
Jack Frost Big Boulder
Ease for Beginners
Jack Frost Big Boulder is a welcoming ski resort in the Poconos, making it an excellent choice for beginners. The resort offers special beginner-focused programs that provide the necessary guidance and support to help newcomers feel confident on the slopes. With a range of easy and intermediate trails available, you'll have plenty of opportunities to practice and improve your skiing skills in a comfortable environment.
Amenities and Services
Jack Frost Big Boulder offers various amenities and services to ensure that beginners have an enjoyable time. You'll find ski and snowboard rentals, experienced instructors, and a snow sports school offering lessons for different age groups and skill levels.
You can also enjoy snow tubing at the resort, which is a fun and accessible alternative to skiing.
The on-site facilities at Jack Frost Big Boulder include dining options and various warm-up stations, ensuring that you remain comfortable and well-fed during your visit. Besides providing essential facilities, the resort is also known for its friendly and helpful staff, making your experience as a beginner skier even more enjoyable.
In summary, Jack Frost Big Boulder is a great choice for beginners looking for a pleasant skiing experience in the Poconos. With accessible trails and a range of services specifically tailored for newcomers, you'll have everything you need to learn, enjoy, and excel at skiing.
Shawnee Mountain
Shawnee Mountain is a popular ski resort in the Poconos that caters to skiers and snowboarders of all levels, especially beginners. This resort is known for being family-oriented and easy to access from major Eastern U.S. cities.
Ease for Beginners
Shawnee Mountain boasts an excellent variety of beginner-friendly slopes and trails, perfect for those just starting out or looking to polish their skills. With 23 slopes and trails, there are plenty of options to choose from, ensuring a comfortable and enjoyable experience for novice skiers and snowboarders. Additionally, the resort provides interactive and fun lessons taught by experienced instructors, allowing beginners to feel confident and supported on the slopes.
Amenities
Shawnee Mountain provides a wide range of amenities to accommodate guests visiting the resort. You'll find equipment rental services for those without their own gear, lockers to store personal belongings, and a spacious parking area for easy access to the mountain. Several dining options are available, from cafeteria-style eateries to sit-down restaurants so that guests can recharge and refuel after a day on the slopes.
Services
One of Shawnee Mountain's notable services is night skiing, allowing visitors to enjoy the slopes after the sun has set. This unique experience offers a different perspective on the mountain and extends skiing and snowboarding hours for those looking to maximize their time on the slopes.
In addition to lessons and night skiing, Shawnee Mountain also offers snow tubing for guests seeking an alternative winter activity. With dedicated snow tubing lanes and a magic carpet lift, it's a fun and exciting way for families and friends to enjoy the snow together.
In summary, Shawnee Mountain is an excellent choice for beginners and families visiting the Poconos for their ski vacation. With its beginner-friendly slopes, high-quality amenities, and a variety of services, it ensures a memorable and comfortable experience for all guests.
Making the Right Choice for Beginners
When planning your first ski trip to the Poconos, selecting a ski resort that accommodates beginners and provides a fun, stress-free experience is essential. With multiple ski resorts in the region, you have a few great options to choose from.
Blue Mountain Resort in Palmerton is an excellent choice for beginners, offering 14 beginner trails and accommodating snowboarders with five terrain parks. This resort is known for having Pennsylvania's highest vertical, measuring an impressive 1,082 feet.
Another beginner-friendly option is Camelback Mountain in Tannersville, the largest ski resort in the Poconos. This resort caters to both beginners and expert skiers, ensuring that everyone feels at home on the slopes.
The Poconos region is also home to six ski areas offering beginner-friendly trails and ski lessons, making learning to ski and snowboard enjoyable and straightforward.
When selecting the right ski resort for your first ski trip, keep in mind the available beginner trails, the availability of ski lessons, and the size of the resort. By choosing the right resort, you'll ensure that your Poconos skiing experience is enjoyable and memorable, setting the stage for many more ski adventures in the future.
Closing Remarks
As a beginner skier or snowboarder, the Poconos offers a variety of ski resorts catering to your needs. One popular option is Blue Mountain Resort, which features 14 beginner trails, five terrain parks for snowboarders, and Pennsylvania's highest vertical at 1,082 feet.
One of the most important factors for first-time skiers and snowboarders is choosing a resort with beginner-friendly slopes.
All six Poconos ski resorts offer great bunny hills as well as dedicated ski school and lesson center spaces to ensure an enjoyable learning experience. For example, Blue Mountain Resort includes suitable beginner areas like the Valley School Triple, Frontier Alley, and School Hill.
When planning your trip, keep in mind that December, January, and February are generally the best months to visit the Poconos ski resorts due to their state-of-the-art snowmaking facilities ensuring good conditions.
Remember to research each resort carefully and consider factors such as available trails, lessons, and facilities to select the most suitable option for your skill level and preferences.
By following these guidelines and choosing the right resort, your Poconos skiing experience as a beginner will be enjoyable and memorable. So go ahead, pack your bags, and prepare for an exciting adventure on the slopes!
Frequently Asked Questions
What are the most beginner-friendly ski resorts in the Poconos?
In the Poconos, several ski resorts cater specifically to beginners. These resorts typically feature beginner-friendly trails, expert instructors, and ski schools. Some popular options for beginner skiers include Blue Mountain Resort and Camelback Resort.
Which Poconos ski resort offers the best learning programs for novices?
Far far away, behind the word mountains, far from the countries Vokalia and Consonantia, there live the blind texts. Separated they live in Bookmarksgrove right at the coast of the Semantics, a large language ocean.
Are there any Poconos ski resorts specifically designed for couples?
While specific resorts may not be designed exclusively for couples, many resorts in the Poconos offer romantic packages or activities geared toward couples. These resorts often provide a mix of skiing, dining, and relaxation options to ensure you have a memorable getaway.
What facilities can I expect at a beginner-friendly Poconos ski resort?
Beginner-friendly ski resorts in the Poconos typically offer well-groomed ski trails with gentle slopes, ski and snowboarding lessons, rental equipment, and professional instructors. Additionally, these resorts may have amenities such as restaurants, bars, and accommodations, allowing you to fully enjoy your skiing experience.
How does Camelback Resort cater to beginner skiers?
Camelback Resort caters to beginner skiers by offering extensive, beginner-friendly trails and ski and snowboard lessons. Their ski school is highly regarded, and they provide a range of lesson formats to suit individual needs and preferences.
When is the optimal time to visit the Poconos for skiing as a beginner?
The optimal time to visit the Poconos for skiing as a beginner is generally from December through February. During this period, you can expect good snow conditions, with most ski resorts utilizing state-of-the-art snowmaking facilities to ensure an enjoyable skiing experience.
When is the optimal time to visit the Poconos for skiing as a beginner?
The optimal time to visit the Poconos for skiing as a beginner is generally from December through February. During this period, you can expect good snow conditions, with most ski resorts utilizing state-of-the-art snowmaking facilities to ensure an enjoyable skiing experience.
Justin Abbate is a passionate traveler and explorer, having journeyed to diverse destinations from the historic streets of Italy and Greece to the breathtaking landscapes of Australia. Born in Scottsdale, Arizona, his wanderlust has taken him to hidden gems like Nice, France, where he spent a summer, and to renowned spots in Switzerland, Germany, London, and beyond. As the Account Director at Single Origin, Justin combines his love for travel with his expertise in digital strategy. Dive into his articles as he shares captivating tales and insights from his global adventures.